Earth Sea Publishing is proud to be the distribution source for authors, Jack and Sue Drafahl.  For almost 40 years, Jack and Sue Drafahl wrote more than 700 articles for seven different magazines. They also have seven technical books on photography, published with Amherst Media.
Eight years ago, Jack and Sue decided to change the course of their writing style to include fiction.  Since then, Jack and Sue have written nine novels that span the gamut of genres from Future Science to Romance.  Earth Sea Publishing is now in the process of publishing them.  When they are available for purchase, we will announce it on this website.
E-mail: digitalduo@jackandsue.com
Just Released !!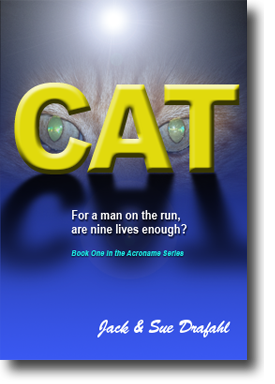 Curt Allen Towers owns a successful manufacturing company, specializing in miniaturized robotic devices. His life is turned upside down when he is accused of the rape and murder of a business associate.  Curt struggles to prove his innocence, but finds there is a fine line between friend and foe.  He must now rely on his gut feelings to judge a person and read them with his heart.  A fugitive from prison, he desperately runs for his life, evading one attempt after another on his life. Curt lives up to his nickname of CAT and wonders if nine lives are enough?
CAT is book one in the Acroname series.

Here are some initial reviews:
Loved It - Cathy Church and Herb Rafael - August 28, 2012
I am always reluctant to enthuse over a book written by good friends who have not been novelists for very long, but this book was a hoot! It had lots of plot and action, and kept my attention right to the end. As a SCUBA diver, it had the added fun of plenty of really good underwater action. And I am a sucker for good endings. The writing is just fine, and the interweaving of events is not muddled or confusing.
Well done, Jack and Sue!!
CAT - wynkoop1 - September 6, 2012
Riveting! Page turner! Totally enjoyable story that kept me flipping the pages until the end. Does a CAT really have 9 lives... I recommend that you read this book.
Great Read - Scubanancy - August 21, 2012
Interesting story with many twists.  The character development of the main character was well done and you couldn't help cheering for him on his many exploits.  The intrigue of the scuba diving adventures were accurate and I am ready to book a trip to the caves of Mexico.  Definitely worth the read.
What a Plot! – L. Moore - August 21, 2012
I thoroughly enjoyed reading CAT!  The plot is loaded with twists and turns--you just don't know what the authors will fire at you next!  In the end, all ties together to make my BEST SUMMER READ!
CAT – Pasta - August 22, 2012
Having just finished this book that was hard to put down because of its many adventures the main character encountered.  You could only root for him to get out of his many challenges. The main character is well written. Would recommend this book. Enjoyed the ending.

You can preview seven sample chapters by going to: CAT
Available on Kindle version
http://www.amazon.com/CAT-ebook/dp/B008P3BYWC/
6" x 9" paperback version
https://www.createspace.com/3951676